January
 Nishinomiya Shrine is a main spot worshipping Ebisu-sama, the God of Luck. People will visit and pray for good business. Every January 10, there is an annual Lucky Men Race, which is called "Fukuotoko Erabi", the highlight of the festival. At 6 a.m., they will open the Aka-mon (red gate) and the participants will run to the main shrine located 230m far away. The top 3 participants will be the "Fukuotoko (Lucky Men)" that year.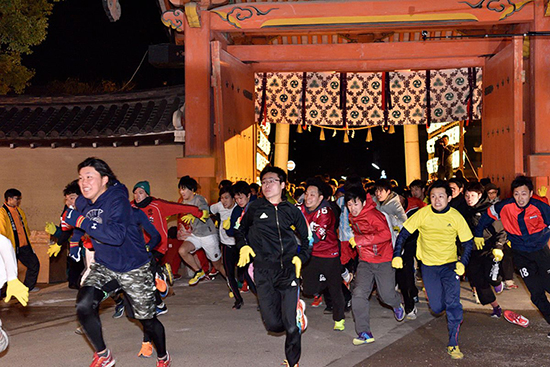 February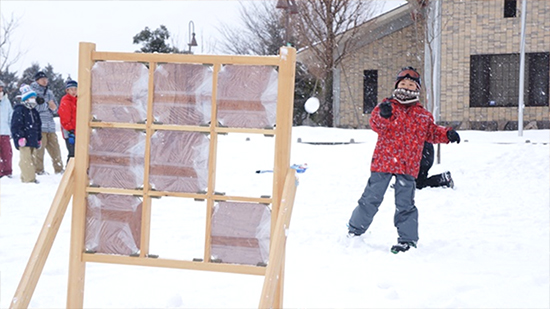 Every winter, the northern area of Hyogo Prefecture is always covered with snow. Visitors may go skiing or snowboarding. There will be a Snow Festival held by Tajima Pasture Park, with different games like "Snowball Struck Out".
March
 Every mid-March to mid-April, there will be a Rape Blossom Festival held at Awaji Hana Sajiki. About a million of rape blossoms growing on the hügelland, forming a huge carpet. You may enjoy the contrast between the ocean, sky and the flowers.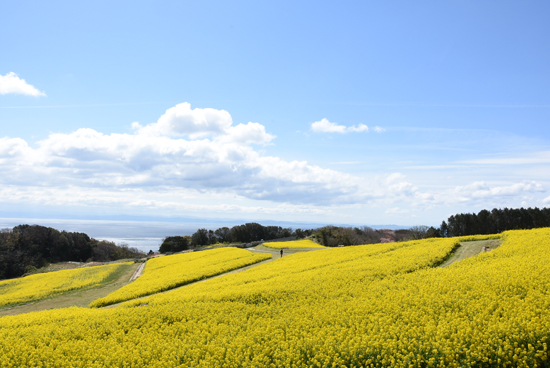 April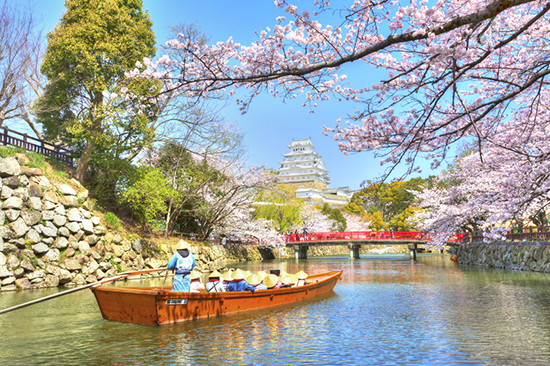 There are about thousands of cherry blossom trees around Himeji Castle. Every April, we can see the cherry blossoms are in full bloom nearby Himeji Castle. It was also be selected as one of the "Best 100 Spots to Enjoy Cherry Blossoms". Yoshino cherry and weeping cherry covering the white plastered earthen walls of Himeji Castle, representing the beginning of spring.
May
 The wisteria in Byakugo-ji Temple are longer than normal wisteria, so it is called Nine Shaku (120-180cm) wisteria. Every May, they will become a huge purple veil. In the night, they will keep the nights up and turns to a romantic atmosphere.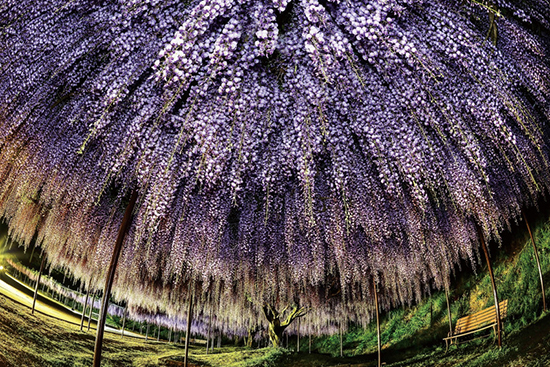 June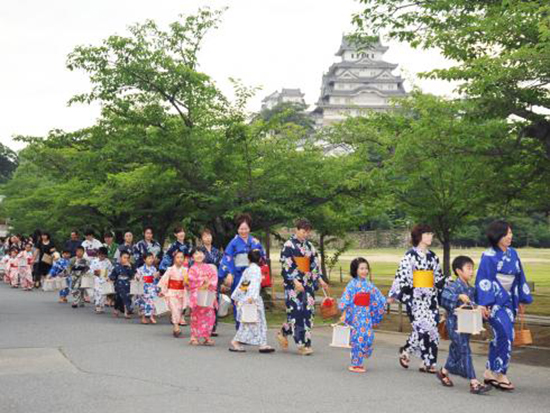 Every June, the Himeji Yukata Festival will be held in Himeji. It is a summer festival co-organized with Osakabe Shrine's regular festival. During the festival, there will be many different events such as Kids Yukata Parade, Yukata Fashion Show, and booths be prepared. Visitors may enjoy Japanese festival here.
July
 About mid-July to the end of the month, there will be a "Sunflower Festival" in Sayo town. There will be totally 1 million sunflowers get into bloom during that period, heal and relax us.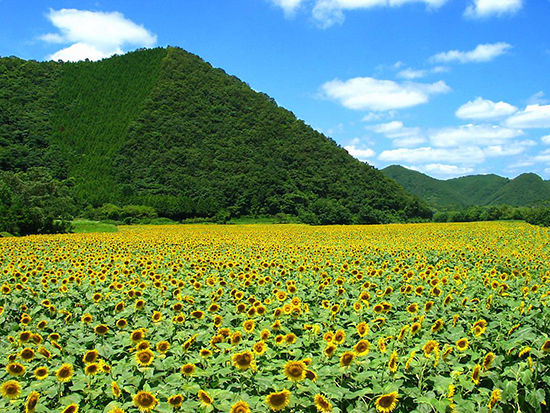 August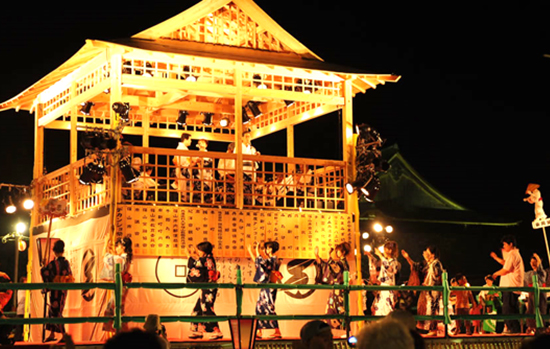 Tamba Sasayama is a city with lots of historical story. It was a prosperous and bustling castle town during the Edo period. A traditional folk song called "Dekansho-Bushi" have been kept to the present since 200 years ago. Every August, local citizens will have a folk festival called "Dekansho-Matsuri", sing and dance in the summer night.
September
 "AWAJI LONGRIDE 150" is an island loop cycling event in Awaji-island. Participants need to finish the 150km route within 10 hours. You may enjoy the beautiful mountain and sea view while cycling. The organizer also offers different types of Awaji food for the participants.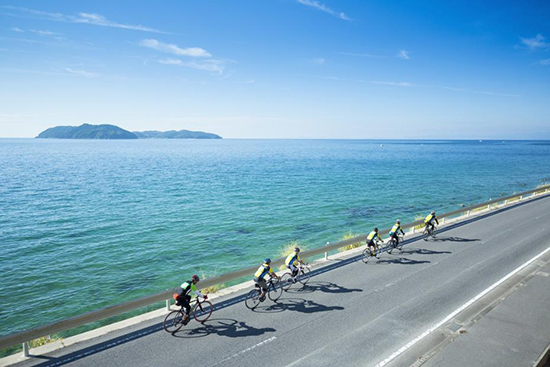 October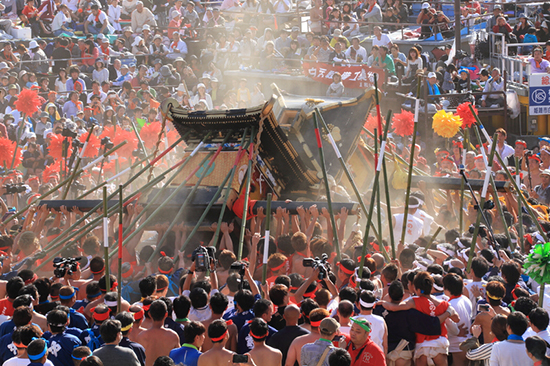 Every October, there will be Autumn festival everywhere in Japan. In Himeji, there is a fighting festival called "Nada no Kenka Matsuri" in every 14-15 October. During the event, seven "Yatai (festival float)" will transform to the shrine from different positions. Also, there will be "Mikoshi (sacred religious palanquin)" jostle each other.
November
 The first marathon competition in Japan was held in Kobe. Now, Kobe is organizing "Kobe Marathon" every November. During the opening ceremony, participants will put on the yellow sunflower gloves, which represent the recovery of the Great Hanshin-Awaji earthquake.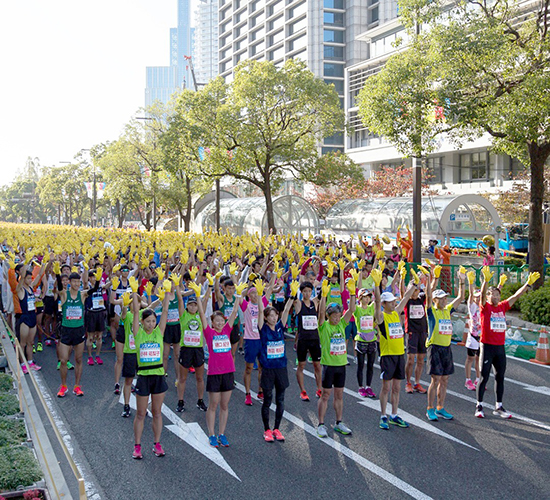 December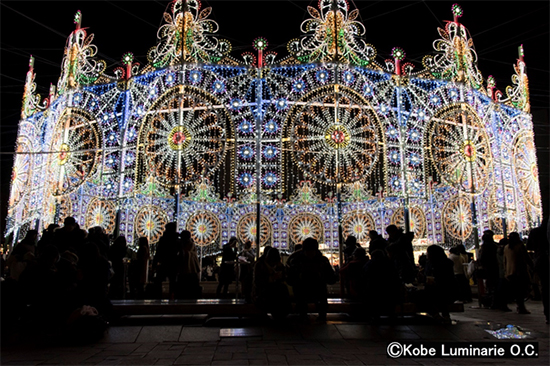 "Kobe Luminarie" is an event that puts the dreams and hopes for the reconstruction and revitalization of the city as well as the spirit of relieving the victims of the Great Hanshin-Awaji Earthquake. It was first held in 1995, after the earthquake. It is also a winter tradition in Kobe where you can enjoy the lights designed based on different themes.